Like a new car that plummets in value once you drive it off the dealer's lot, electronics are worthless the moment you slip them out of the box. The bad news is, there's nothing you can do about tech depreciation.
The good news is, you can probably find a market for the gear you no longer want. Unloading spent gadgets can put cash in your pocket that you can reinvest toward the latest technology.
Companies shedding old electronics used to have to pay other companies to help with disposal and with legal compliance. Now, however, you have numerous options for handling the process yourself.
In addition to the broader online marketplaces of Craigslist and eBay, specialized Web-based services will pay you for, and then resell or recycle, used electronics. In many cases the amount they'll pay for goods that are only several seasons old can amount to more than half of the initial ticket price. What's the best way to navigate this market?
How to Sell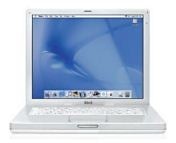 You could get between $41 and $300 for an Apple iBook G4.
For the greatest resale value later, when you buy new, keep the original box, cables, and software intact. When you're ready to give your gear a new home, polish that laptop up and send it packing with its manual enclosed.
It takes only minutes to look up a quote for an item on a reselling service's Web site and then request a prepaid shipping envelope. Within a few days you can send away the unwanted stuff and then receive the money via PayPal or a check in the mail.
However, though you may lose money allowing electronics to sit around and depreciate, it's also a waste of payroll hours if you spend a day scheming how to yield a $30 return from a five-year-old GPS device. Although selling one item at a time can give a minor payback, you'll get the biggest reward by dealing with at least a handful of goods simultaneously. If your company had to shed five employees in lean times, for example, selling their orphaned desktops and flat-screen monitors in one swoop can help recover some losses.
What to Sell
Smartphones and laptops — particularly from Apple — tend to fetch the highest prices. Digital cameras, MP3 players, HDTVs, storage drives, and inkjet printers are among the hardest sells. If you hold on to any product for long enough that its resale value evaporates, you might as well donate it to a school, or maybe to a tech museum.
If you want the latest laptop every few months, or if you need a team of workstations to serve temporary workers for only one quarter, renting electronics can save you money and prevent the pile-up of old tools in the first place.
Cell Phone Recycling
Handing over a worn BlackBerry Bold 9000 could earn you more than $100.You can find a plethora of phone-recycling services that pay a pretty penny for relatively new smartphones. To start, EcoSquid lets you search multiple Web sites to compare offers for old handsets, and then takes a share if you make a transaction with a referred service. A number of sites specialize in iPhone recycling and trade-ins.
Getting rid of a handset before its service contract expires can ring up an early-termination fee of up to $350, depending on your wireless carrier.
Services that offer money for cell phones provide a range of quotes.Among the services that pay for old phones but don't deal with contracts, Cell for Cash, Sell Your Cell, and Simply Sellular offered some of the highest quotes–up to $144 for a 16GB iPhone 3G, and $110 for a BlackBerry Bold 9000. If you want to sell more than phones, sites with a broader focus, such as BuyMyTronics, Gazelle, and NextWorth (more below), offered competitive price quotes.
It's wise to wipe text messages, contacts, calendar items, and other data off a phone even if you're sending it to a service that promises to do the same–especially when those security pledges are vaguely worded. Remote wiping is available for the iPhone with a MobileMe account, and for the BlackBerry 6 operating system. For businesses, software such as that of AirWatch can provide deeper device management.
BuyMyTronics, Gazelle, and NextWorth are competing services that offer cash or credit for an array of electronics. Each Web site displays an immediate price quote once you describe the condition of the item you're selling. Although I saw plenty of information for Apple computers on these sites, I couldn't find quotes for a ThinkPad laptop. Some of the products I looked up weren't listed on NextWorth at all.
After you click to commit to a sale on one of these sites, you need to mail in the gear via prepaid shipping that arrives at your door. The service adjusts the quoted price if the item doesn't match your description. When the transaction is done, you get payment via check, PayPal, or a store gift card.
iPod Touch being taken apart.Comparing quotes for the same products, I saw few drastic differences among the sites. A 16GB, first-generation iPod Touch would fetch $51 on Gazelle, a dollar more on BuyMyTronics, or $63 on NextWorth. The same kind of iPod in varying levels of condition was going for between $100 and $200 on Craigslist in the San Francisco Bay Area, and had sold for between $58 broken and $148 in great shape on eBay.
Price quotes showed a bigger range for larger and less-popular items. BuyMyTronics quoted $41, NextWorth quoted $66, and Gazelle quoted $95 for a 1GHz, 60GB Apple iBook G4. A Garmin Nuvi 785T GPS device, not found on BuyMyTronics, would garner $35 at Gazelle and almost $84 at NextWorth. For older, less desirable goods, such as a Canon SD400 Elph digital camera, you'd be lucky to get $10. I couldn't find any takers for a year-old Canon inkjet or an older HP laser printer.
Bulk-resale options for small businesses are available at Gazelle and elsewhere. If you're planning to off-load a bunch of machines, contact the services directly.
As for security, each service pledges to wipe data from your equipment, but the details are relatively slim.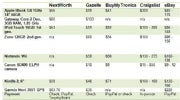 Prices for old electronics quoted by a handful of Web sites.Brett Mosley, CEO of BuyMyTronics, says his company resells tens of thousands of units–more than two-thirds of what it buys–on other sites, including Amazon and eBay. It refurbishes another 15 percent of the items it receives, and sends another 15 percent off for recycling in first-world countries.
Vendor Trade-In Programs
If you're a brand loyalist, trading in a product through the company that made it can help you afford a same-name upgrade. Apple offers gift cards toward new purchases if you send an approved Mac or PC laptop or desktop to partner PowerON, which provides a prepaid shipping label and a box. On the other hand, recycling a PC or monitor through Apple partner WeRecycle involves paying a $30 charge.
HP's trade-in program pays in credit toward a new HP purchase for sending in equipment — from copiers to workstations–made by HP and other companies. This could be the best deal for getting old printers out of the office, since few third-party services take them. HP charges $15 to scrub data off your devices according to Department of Defense standards. HP's return-for-cash options include consumer buyback and asset return for businesses.
If you're buying a new PC from Dell, that manufacturer will take any other old computer from you for free. The quarterly Greenpeace Guide to Greener Electronics can tip you off to recycling options from other big electronics brands, although most don't provide payment or credit.
Selling on Craigslist
If you don't mind meeting up with strangers, the Craigslist Web site is among the fastest options for selling items locally. Depending on your region, you might also reap a higher price than you would on a tech-resesller specialty site; for instance, San Francisco-area Craigslist users selling the Kindle 2, which would fetch $71 or less on BuyMyTronics and its competitors, were asking between $100 and $169. Plus, Craigslist can be a good option for getting rid of printers, monitors, and other gear that resellers often reject. Remember, though, that the asking prices don't reflect what buyers end up paying. For more advice, check out our tips for using Craigslist.
If you don't want to post a custom ad, field e-mail messages from real people, and take the time to arrange for an in-person pickup and payment, the online reseller services are a better fit. Then again, you might also consider even less formal channels of exchange online, such as advertising what you're getting rid of through Facebook or informing your Twitter followers.
If you're already an eBay aficionado, selling electronics there could be convenient and may return a higher price than what you can get elsewhere. In recent weeks the Kindle 2 sold for $120 — or, loaded with books, for up to $209. The site is likely a time sink, however, if you're a first-time user who hasn't built up a reputation or learned the ins and outs of online auctions.
In any case, research on eBay can give you an idea of a product's fair market value. You can use the advanced search function to scour completed listings for what people paid in the end for items, versus the list prices, which often differ wildly. You'll have to sign in to view the results, which cover only the past 15 days.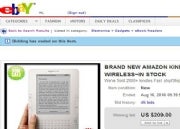 Someone sold a Kindle 2 for $209 on eBay. eBay users were willing to pay a range of prices for a 16GB, first-generation iPod Touch: from $56 for a broken device up to $148 for one with cosmetic wear and tear. An Apple iBook 1GHz G4 fetched between $40 and $170, depending on the condition. Don't forget to review eBay's fees before launching an auction.
Selling Media Items on Glyde
If you have a surplus of DVDs, CDs, video games, and books, Glyde is an up-and-coming service for selling and buying media. Unlike with eBay, users involved in a transaction don't learn each other's identity; and unlike with Craigslist, buyers can pay by credit card. Red Dead Redemption for the PlayStation 3, for example, is selling on Glyde for about $41, including shipping. NextWorth says it will pay $28 for the same game with normal wear and the original case. Amazon offers store credit for used games.
Selling on Amazon
Amazon allows smaller companies (including some tech resellers) to piggyback on its infrastructure and sell things through its WebStore. However, this service is for selling in bulk, not one-off unloading. After a 30-day free trial, pricing options start at $10 per month with a 7 percent cut of completed transactions.
In-Store Programs
RadioShack accepts some equipment that other services do not, such as car stereo amplifiers, radar detectors, and mice. In exchange for a store gift card, its Trade & Save program offers prepaid shipping of phones, GPS devices, cameras and camcorders, gaming consoles, games, and MP3 players.
The TechForward program at RadioShack, Office Depot, and online via Tiger Direct and CompUSA stores offers a resale program of sorts for consumers who upgrade frequently. You buy a TechForward plan at the time of a new product purchase. Six months later, you can return the product and receive half of its initial price, which you can use toward a newer model.
Printer-Cartridge Recycling
Makers of printers increasingly offer free mail-in recycling for empty ink cartridges, but you can earn back some of the fortune you lost buying printer consumables. Staples stores offer modest coupons for bringing in spent ink cartridges.
Environmental Office Solutions pays money for empty inkjet and laser toner cartridges, as well as cell phones. For a far-from-paperless office, a pile of cartridges with a return amount of $3 to $10 each can add up. The company says the most popular toners it takes include the HP C8543X, CE250, and CC530 cartridges. Inkjets fetch a few dollars less, with the HP 28 and 22, and the Canon CL41, among the most wanted. If you have more than 150 cartridges, Environmental Office Solutions takes bulk orders.
Donate Gear for a Tax Break
Giving away tech for resale through a group such as Goodwill can result in tax deductions for charitable contributions, with the side benefit of enhanced community relations. The nonprofit TechSoup has information on giving equipment to other nonprofits.
Compliance
Businesses must take extra steps to ensure that their getting rid of old gear complies with the law. In some municipalities you can be fined for tossing electronics into Dumpsters. The federal Resource Conservation and Recovery Act makes it illegal to carelessly dispose of goods containing hazardous materials, such as lead-laced CRT monitors. Electronics make up 2 percent of municipal waste and are the fastest-growing portion of the waste stream, according to the Environmental Protection Agency.
Saying good-bye to old computers and hard drives isn't just about getting rid of the equipment, but also clearing the data they store. Companies dealing with sensitive financial information have to consider the Sarbanes-Oxley and Gramm-Leach-Bliley acts. Those who work in healthcare must follow HIPAA regulations.
That's why it pays to research security and data-wiping options before handing your laptops or smartphones over to strangers. You can delete the data yourself. If you sell to a third-party service, see that it follows Department of Defense data-destruction standards.
Responsible Recycling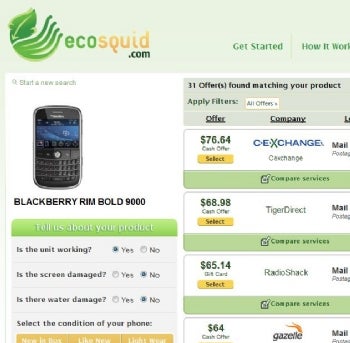 EcoSquid searches multiple services that buy used cell phones.There's no law against shipping electronics overseas to developing nations for unsafe recycling–and that's a problem. Just because you're selling electronics to a willing buyer doesn't mean that the product will wind up disassembled in a way that doesn't pollute or harm workers.
"Typically cell phones have a better reuse and recycling market than computers do," says Sheila Davis, executive director of the Silicon Valley Toxics Coalition. And companies reselling phones to developing nations are usually doing the right thing environmentally.
Only 10 percent of obsolete computers, however, are recycled according to high human-rights and ecological standards.
"If they're taking your computer for free or giving you money for it, more than likely they're not handling it properly, because it actually costs money to recycle properly," says Davis.
Only recyclers certified through the Basel Action Network's e-Stewards program are certified not to ship equipment overseas for unsafe labor, not to use prison labor, and not to incinerate items.
Source: PCWorld.com