These days, almost every conceivable gadget comes with Bluetooth – from your laptop to your mobile phone. Named after 10th-century King Harald Bluetooth, who was temporarily able to unite several warring Scandinavian tribes, Bluetooth is a protocol for short-range wireless communications.
The technology was released in 1999 but was slow to catch on, hampered by high prices and incompatibility problems among the devices that made use of it.
But accessory and radio makers have spent nearly a decade getting Bluetooth devices to play nicely, and the technology is enjoying newfound popularity among the mobile crowd. Casey Holmes, an analyst at VDC Research Group, predicts that sales of Bluetooth accessories could rise from $1.6bn in 2007 to $6.4bn in 2011.
While Version 2.1 is the most recent Bluetooth specification, most of the devices on the market today haven't caught up. Not to worry: Bluetooth 2.0 products will reliably work together with hassle-free setup.
However, if you're like me, then you hardly ever use Bluetooth because other than a clunky headset, you think there's not much to connect to.
While that may have been true in the past, its not now as there's an array of cool and useful Bluetooth devices has appeared on the scene.
To get an idea of what Bluetooth is capable of these days, I tested 10 wireless accessories that help with everything from making hands-free calls and printing mobile phone photos to typing emails and controlling presentations. I used the devices with both a mobile phone and a Bluetooth-enabled laptop.
These gadgets were quick starters – with a couple of exceptions, there was no software to load. And unlike in the past, all the devices were up and running in a matter of minutes, most on the first try. All of which means these accessories can free you from the tyranny of cables with almost no effort on your part.
And if you've got a Bluetooth-less laptop then fear not. There are many USB adaptors that can plug into your laptop and connect it with any of these Bluetooth accessories. Plug-in Bluetooth modules are available from a number of companies including Kensington. In particular we love the MoGo Dapter Bluetooth module.
Logitech diNovo Mini Keyboard
There are few things more annoying than the tiny keys or on-screen keyboards that make typing a tedious and not particularly accurate chore on smart phones and handhelds. Logitech's diNovo Mini keyboard ($129 in the U.S.) can make every keystroke count – and it can even make watching TV more relaxing.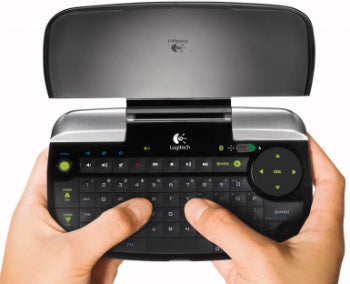 The diNovo Mini is a basic QWERTY keyboard with 63 keys, though it lacks the familiar Function and tilde (~) keys. While the 9.25mm keys may appear skimpy compared to a laptop's, they're twice the size of BlackBerry keys, and the backlighting makes typing in low light easy. There's a responsive circular touchpad and keys for Page Up and Page Down, as well as buttons to control your Media Center PC from your favorite armchair.
The keyboard connected on the first try with both devices and within a few minutes I was typing notes, emails and spreadsheets, and was able to tap out about 20 words a minute, regardless of whether I was using my thumbs or index fingers. The keyboard had a 45-foot range and its battery ran for two weeks of on-and-off use.
A note about range
Although Bluetooth and Wi-Fi share the same 2.4GHz frequency, they couldn't be more different. While Wi-Fi has a range that pushes 200 feet, Bluetooth is limited to about 50 feet – and to cut power use, many Bluetooth gadgets reach just 10 or 15 feet. But that's more than enough for headsets and the like.
As good as the diNovo Mini is as a go-anywhere keyboard, it really comes into its own for couch potatoes. If you've hooked up your TV to a Windows Media Center PC, the Mini provides an elegant, compact way to control your entertainment from across the room.
It not only plays, pauses and moves tracks for CDs or DVDs, but it can adjust the volume and mute the sound. The best part is that it can nudge the channel up and down, or you can just type in the channel directly. The diNovo Mini is also compatible with the PlayStation 3 game system.
Whether you're vegging out in the living room or taking care of business on the road, it's the perfect wireless keyboard.
Polaroid PoGo Instant Mobile Printer
It's easier than ever to take snapshots with your mobile phone, but what do you do with them all? Polaroid's PoGo printer ($108 in the U.S.) can put them on paper without a cable in sight.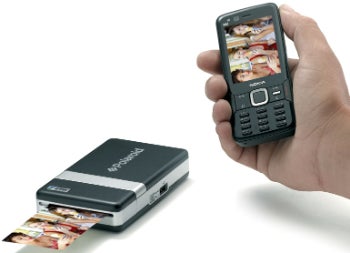 PoGo measures 120x72x23.5mm and weighs 227g Based on Zink (short for 'zero ink') technology, it doesn't use ink or toner. The special 2x3in paper has microscopic yellow, cyan and magenta crystals that are activated by the printer.
The PoGo set up in a couple of minutes with my phone, printed a 278KB image in just over a minute and had a range of 37 feet. The 450 milli-amp hour battery was good for 15 prints.
The photos have a semigloss finish and an adhesive backing, so they can be used to make impromptu name badges. One 10-sheet pack of Zink photo paper is included with the PoGo, and you can buy additional packs in quantities of 10, 30, 60 and 90.
As much as I like PoGo, I wish the prints were bigger – but then PoGo wouldn't be as portable as it is.
Kensington Vo200 Bluetooth Internet Phone
If you dread your monthly mobile phone bill, Kensington's Vo200 can cut communications costs. The tiny Vo200 handset connects via Bluetooth to a laptop and routes calls over an inexpensive voice-over-IP (VoIP) service like Google Talk or Skype.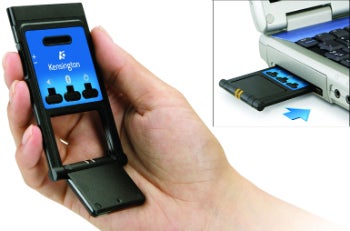 The Vo200 is one of the smallest and lightest handsets around. It works only with Windows XP PCs, using the laptop's Bluetooth gear to connect. As long as the laptop has a broadband connection, you're able to make and take calls.
Including software installation, setup took 15 minutes on my laptop. After that, I made and answered dozens of calls with the Vo200 on the Skype service and found its audio quality to be as good as wireless VoIP phones that cost three times as much. It had a range of 25 feet and its battery ran for two and a half hours of calls, although there's no battery indicator.
As enticing as the Vo200 is for blabbermouths, it's flimsy and lacks a screen or keypad. As a result, you need to dial calls through the laptop's keyboard.
On the other hand, one of the coolest things about the Vo200 is that the handset is stored and charged in the notebook's PC Card slot. That way it's a VoIP phone booth that's ready whenever – and wherever – you are. Sadly its currently only available in the U.S. ($20).
BlueAnt Supertooth 3 Hands-Free Speakerphone
It's illegal to use your mobile phone while driving but fiddling around with the buttons on a Bluetooth headset can be equally distracting. If you must talk and drive, BlueAnt has a better way: the voice-controlled Supertooth 3 speakerphone.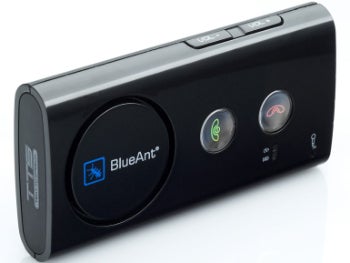 The hands-free device is perfect for those of us who hate to read directions because it actually tells you how to use it in your choice of six languages.
The package includes not only the black speakerphone, but adaptors for AC and cigarette lighter sockets. It took about a minute to connect with my phone, and I quickly figured out how to dial and answer calls by voice command. Its audio is clear and static-free, but a little hollow at times.
Supertooth 3 has a range of 40 feet and its battery lasted for four hours of use. The device easily clips to any car's sun visor, which means it's always there waiting for your next call. The Supertooth 3 isn't currently available in UK (available in the U.S. for $82), but accessory companies such as Kensington offer good alternatives.
Interlink Electronics VP6600 ExpressCard Media Remote for Bluetooth
Interlink's VP6600 media remote ($40 in the U.S.) is smaller than a business card, yet can control a PowerPoint show so well that every mobile presenter should pack it – especially because it charges and travels right in your laptop's ExpressCard slot.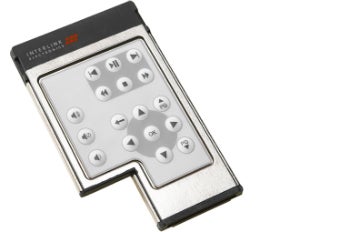 Setting up the tiny remote control with my laptop took a minute, but there's neither an on-off switch nor a light, so you have to trust that the VP6600 is working. On top of buttons that move your slides forward and back, and change the volume up and down, there's a handy mute button. The device, which requires Windows XP or Vista, can also play and move among tracks of a CD or DVD.
The VP660's 50-foot range can come in handy when presenting in a big room. The remote control card ran for more than three hours on a charge; after 30 minutes of idle time it puts itself to sleep. Let's hope that your next audience doesn't suffer a similar fate.
Yamaha NX-B02 Bluetooth Wireless Speaker
Yamaha's NX-B02 Bluetooth speaker ($140 in the U.S.) set puts an end to the presenter's nightmare of fumbling with wires to connect speakers or – worse yet – not finding the right audio cable. A single box, which contains two speakers, connects in a flash, runs on batteries and sounds like a much larger speaker system.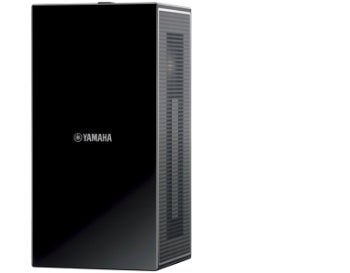 About the size of a small clock radio, it's hard to believe that the NX-B02 contains a 10w amplifier. The unit's 1.75in. Titanium cone speakers are augmented by two passive radiators (diaphragms that move in response to the main diaphragm's vibration, strengthening the bass). It comes with an AC adapter but not the four AA batteries that can power it for six and a half hours.
Connecting it to my phone was straightforward and took all of a minute. The NX-B02's audio is surprisingly rich, on a par with a good boombox. It has a 20 foot range and can easily fill a room with wireless sound.
Sony Ericsson MBW-150 Classic Edition Watch
Whether it's at a meeting or a wedding, sneaking a look at your phone to see what calls or texts you've missed is an obnoxious habit. But we're all guilty of it at one time or another. Sony Ericsson's MBW-150 ($180 in the U.S.) can put an end to this loathsome behavior; it's a wristwatch that's an extension of your phone.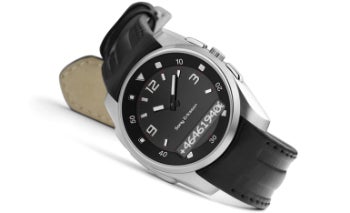 The MBW-150 Classic Edition is nicely styled, but its stainless steel case is a little chunky for me. At the bottom of the stylish analog time dial is a small Organic LED screen that shows who is calling or that a new text message has arrived.
Connecting with my phone was easy, although it took me a while to master the device's five control buttons. The MBW-150 really came into its own as a way to control my phone's music collection. It not only shows what track is playing, but the three buttons on the left side can pause, move a track or change the volume.
The Bluetooth radio has a range of 20 feet, and its battery lasted for five days' worth of calls and music. The watch kept excellent time and kept running after the Bluetooth radio shut down. With the MBW-150, I can keep my phone in my pocket, where it belongs.
Aliph New Jawbone Earphone
If you're like me, using most Bluetooth earphones is nothing short of torture. Aliph's second-generation Jawbone ($50 in the U.S.) is a pain-free way to chat on the phone while leaving your hands unoccupied to do more important things, like driving, cooking or taking notes on an important call.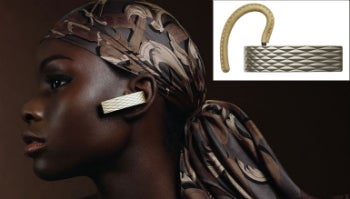 The new Jawbone is half the size and weight of other popular Bluetooth headsets. Stylish and comfortable to wear for hours at a stretch, the Jawbone comes with an AC charger and a variety of earplugs and rings to suit different heads.
Connecting to my phone was easy and took less than a minute; its 15 foot range was plenty. The device's Achilles' heel is its hidden switches, which take a little getting used to. But before long I was able to use Jawbone to adjust the volume, accept and reject calls. Its battery was good for four and a half hours of calling.
The audio was generally echo-free, although the unit's microphones (it has two for more accurate audio) didn't pick up all my words until I started using a smaller earplug, which held the device more securely in my ear. At that point, calls came through loud and clear without weighing me down.
Lego Mindstorms NXT Robot Kit
If there's one Bluetooth accessory that can show the potential of this wireless technology while providing lots of fun, it's Lego's Mindstorms NXT ($200 in the U.S.). Basically, it's a bunch of motors, gears, cams and electronic parts that can be put together to create various robots that respond to programs you create and transmit via Bluetooth.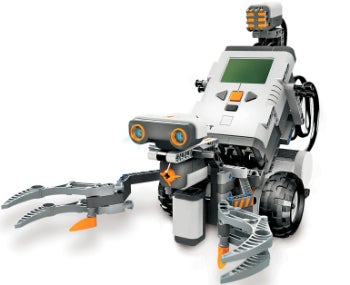 At first, it's a bit daunting to face the hundreds of tiny plastic parts to be snapped together. There are also sensors for distance, touch and sound, as well as three motors to breathe life into your robot. The robot's brain is the NXT controller box, which has a 32 bit ARM processor, 512KB of memory, a small screen and a Bluetooth module. Don't believe the promise that it takes 30 minutes to create your first robot; two hours is more like it.
Once it's together, you can wirelessly tell the robot to move, make noises and even pick up a ball with its claw. You program it using software on your Mac or Windows XP computer: Just drag activities into the interface and customise the action.
The programs are transmitted to the robot in a few seconds from up to 25 feet away. My robot connected on the first try, and a set of six AA batteries lasted for two hours.
Don't like your creation? Take it apart and start over. The only constraint on the variety of robots that Mindstorms NXT can create is your imagination.
Baracoda D-Fly Bar Code Scanner
Whether you're a salesperson needing to check whether a part is in the warehouse or a shopper looking for a bargain, Baracoda's D-Fly bar code scanner ($300 in the U.S.) can help. It accurately scans bar codes on the first try, and connects with a laptop or smart phone via Bluetooth.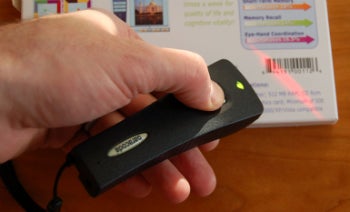 The D-Fly can't tell you the price of an item. What it does do is retrieve an item's inventory number and paste it into any open application. From there, you can use the data to comparison-shop on the fly.
After I loaded the required software on my laptop, the D-Fly made the Bluetooth connection and was ready for action in a couple of minutes. I turned into a super-shopper when I went to my local department store with D-Fly and my laptop looking for a deal on a wireless router.
Bluetooth Safety Tips
On its surface, Bluetooth might seem to be wide open to assorted hackers, bluejackers (who send unwanted messages to your phone) and bluesnarfers (who steal personal data stored on your phone or laptop). But there's a lot you can do to protect your equipment, data and identity when using Bluetooth devices. Follow these simple precautions to stay safe:
If you're using Bluetooth in public, be aware of those around you. Bluetooth's range is limited to between 15 and 45 feet, which means a digital burglar needs to be within your sight to break into your phone or laptop.
Always use the strongest security and authentication settings available. Mode 3 is the best bet because it sets its security protocol before the link is set up.
Delete any Bluetooth profiles you no longer use; they can give a hacker a backdoor.
Always use a passcode – and always set your own rather than using the default setting for the device. Don't use obvious codes, and do change them frequently.
Turn the phone or laptop's visibility setting to 'undiscoverable'.
Never attempt to pair with a device you don't recognise. You never know who is out there or what they're trying to do.
Source: PCworld.com